The primary aim of the organization is to commemorate the declaration of Philippine Independence on June 12, 1898. Kalayaan Filipino Cultural Organization (KFCO)
Aims to preserve and promote Filipino culture and heritage, to  propagate the practice and principles of good government, citizenship and to promote peace, unity and better understanding among association partners and affiliate members.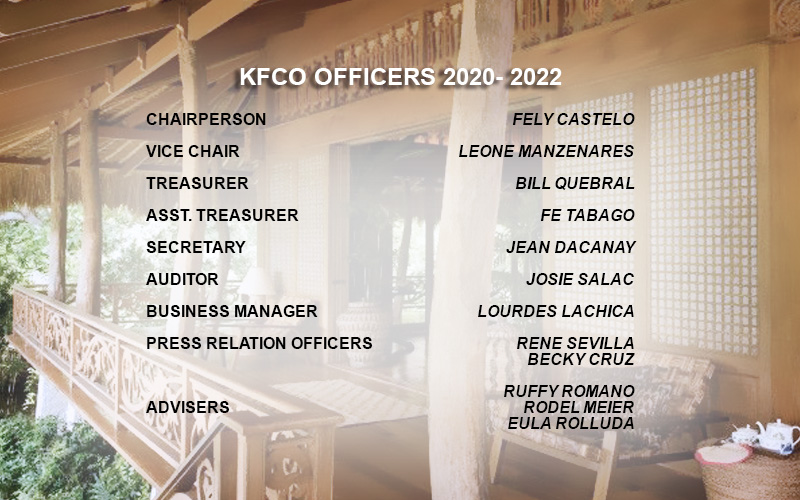 The Kalayaan Filipino Cultural Organization (KFCO) known simply as Kalayaan, used to be the umbrella organization of all Filipino groups in Mississauga and environs. It was created in February 1983 initiated by eight Filipino associations in Peel Region as they joined hands in celebrating the year's Philippine Independence as one unified group, aiming towards a strong solidarity among Filipino-Canadians within the community.
It was registered as a non-profit organization on August 16, 1995. On July 11, 1998, Kalayaan went into high gear for the centennial Celebration held at Skydome (now Rogers Centre). It was an unprecedented success with a gathering of sixty-plus Filipino organizations, and some 30,000 attending the celebration, $120,000 net was realized from this event, and KFCO earmarked this amount for the purchase of a community centre.  A year later (1999), Kalayaan Cultural Community Centre (KCCC) started its operation.
The primary aim of KFCO is to commemorate the declaration of the Philippine Independence on June 12, 1898, thereby celebrating it with flying colours every 12th of June or before or after the actual date. This is the best time guests and members are in their best Filipiniana, barong and terno attires.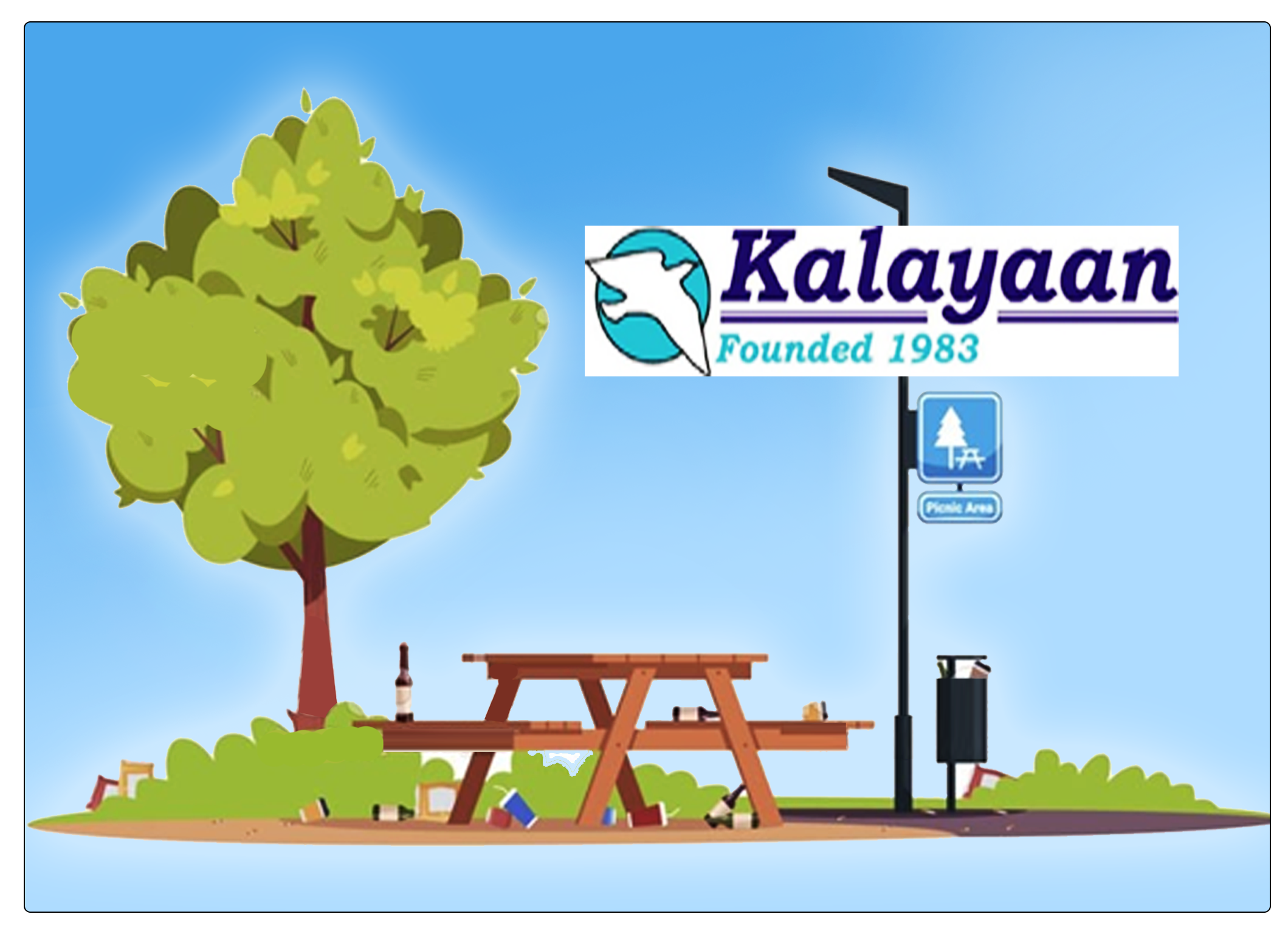 KALAYAAN PICNIC @ MISSISSAUGA VALLEY PARK ON SUNDAY, JUNE 11, 2023. STARTS AT 11:AM.
EVERYONE WELCOME!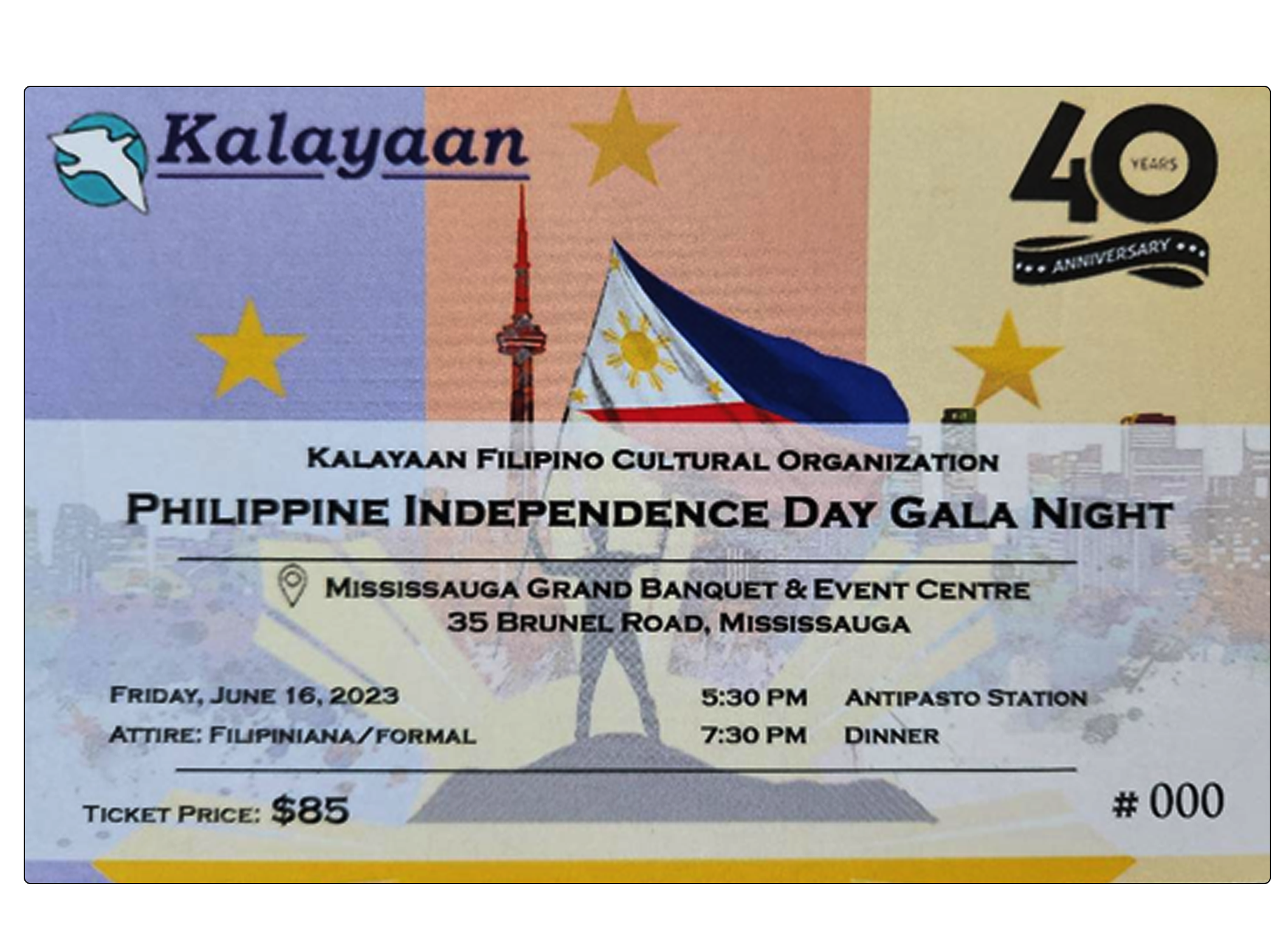 Independence Day Gala 2023
Friday, June 16, 2023 @ Mississauga Grand Banquet and Events Centre
       Ticket Price $85
For more information, Please contact:
Fely Castelo: fhelyc@yahoo.ca or
Lourdes Lachica : llachica@yahoo.com Student Volunteers for the Philippine Festival Mississauga 2023
The Kalayaan Filipino Cultural Organization (KFCO) is looking for student- volunteers for the upcoming Philippine Festival. It will be held at Mississauga Celebration Square on July 15 and 16, 2023.
If you're a high school student in Ontario, and you are looking for volunteer hours, this will be your opportunity to complete or earn some of your required hours. We need volunteers to run and supervise the Children's Village, which is one of the activities in the festival. There will be a variety of ways for you to get involved and learn some valuable new skills while you're at it.
To learn more about great volunteering opportunities and to sign-up, you may contact Fely Castelo, KFCO Chairperson, at 905 601 9001 or email felycastelo49@gmail.com.
If interested: Please fill up the Volunteer
Application Form and bring the completed form
during the orientation. Date:TBA.
Volunteer Application 2023.pdf
We can't wait to hear from you!
 Why is KFCO merging with KCCC? (a short background and reasons)
KFCO was initially formed by our founding members who belonged to various community organizations.
Leadership of KFCO rotated among the leaders of the member organizations, participation on various activities were vibrant, well attended, and successful during those initial years. 
One of the milestone undertakings was the holding of the Philippine Centennial Celebration which was held at Skydome
A significant financial windfall was realized by KFCO out of this event
Officers at that time thought of why not have a Filipino community center by the west end area, thus the Kalayaan Cultural Community Centre (KCCC) came into existence as a distinct organization with its incorporation papers and its own Constitution and By-Laws as well as a building 
Through the passage of time, more Filipino immigrants came to settle in Ontario, as such, Filipino organizations with their Philippine provincial roots and background likewise experienced influx of their own membership, they grew in numbers 
The various organizations or groups that formed the core membership of KFCO eventually went their own way to take care of their growing membership 
Today, one could hardly see any trace of any of the former groups that once graced KFCO
For several years now, the organization, has been hard pressed to look for volunteer members to become officers
There are potential personalities as well as looking for the "younger age demographics", unfortunately they are busy with their respective careers, attending to their growing children or apos, others just want to enjoy their retirement and family 
For quite some time now, KFCO officers have been contemplating on merging with our sister organization, KCCC
Before, the community was confused about KCCC and KFCO, they though it was one and the same entity since both organizations seem to be undertaking similar events and they see similar faces from the community 
The current KFCO BOD has formally written a letter of intent on the possibility of merging with KCCC
KFCO has indicated that whatever is the primary function or activities undertaken by the organization, they can be made part of the programs and activities handled by KCCC within a year which could be very well be handled by a KCCC committee 
Merging would make more sense for both organizations; it can undertake a harmonized planning of activities and events 
KFCO members would volunteer and cooperate with KCCC on their undertakings
Under the referendum item, KFCO is asking its members if they are if favor of the merger of KFCO with KCCC or not
We need membership approval to be able to continue talks with KCCC in this regard
Fely Castelo,  KFCO Chairman
Tel: (905) 601-9001
Lourdes Lachica, KFCO Business Manager
Tel: (647) 891-6896
Address:  5225 Orbitor Dr unit 3, Mississauga, ON L4W 5M6